World Cup LIVE: Ronaldo on after replacement bags hat-trick in Portugal rout
We're sorry, this feature is currently unavailable. We're working to restore it. Please try again later.
GOAL: Portugal 6 Switzerland 1
90min+2: That's beautiful from the fresh Rafael Leao. He dinks back inside Arsenal's Granit Xhaka at the top of the box before letting fly with his right boot.
Time for another?
Portugal 6 Switzerland 1.
I'm actually surprised by that, thought there might be more with all the goals and changes since half-time. But this one has been long over as a contest. Save your legs, lads.
87 min: Rafael Leao replaces Bruno Fernandes, who has been outstanding today.
Embolo also comes off for Switzerland with Ardon Jashari taking his place.
Portugal 5 Switzerland 1.
84 min: Jeers from the crowd but Cristiano Ronaldo was halfway back to Madeira when that through ball left the boot. Still, nothing wrong with a bit of target practice.
Another change for Portugal
81 min: Bernardo Silva has been replaced by Ruben Neves.
Portugal 5 Switzerland 1.
76 min: Almost as soon as he hits the pitch Portugal win a free kick from about 30 yards out. There's never any doubt over who will take it, but Cristiano Ronaldo slams that one into the Swiss wall.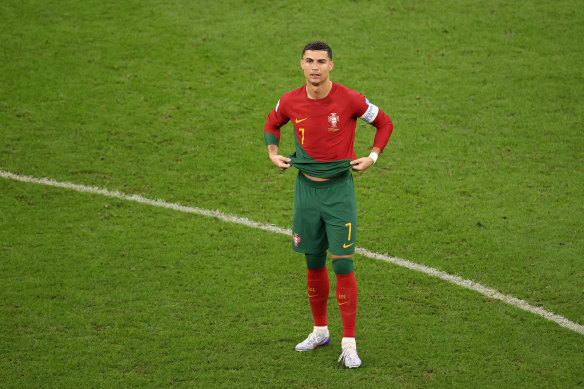 Portugal 5 Switzerland 1.
Triple change for Portugal including the interesting move of replacing a red-hot hat-trick hero with a clubless 37-year-old who has never scored in the knockout stages of a World Cup.
Just kidding, Ronaldo stans. Your man is on and it's to huge applause at the Lusail Stadium. Ricardo Horta and Vitinha have joined him in the fray.
Joao Felix and Otavio the other players who have made way.
GOAL: Portugal 5 Switzerland 1
67 min: Ronaldo may not get back into this team! Goncalo Ramos secures the first hat-trick of the World Cup to date.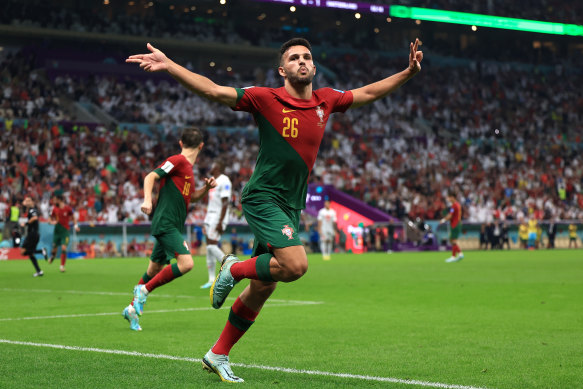 There's just the slightest hint of offside about it but there'll be no issues there.
Portugal 5 Switzerland 1.
66 min: The former Liverpool man has just about put that one out of the Lusail Stadium.
Portugal 4 Switzerland 1.
GOAL: Portugal 4 Switzerland 1
58 min: History of sorts as Switzerland score their first-ever goal in the knockout stages of a World Cup. Manuel Akanji gets it from a corner. Just a sniff, perhaps?
In the madness of those two quick goals we hadn't got to telling you that the Swiss have made another two changes. Remo Freuler and Djibril Sow made way for Denis Zakaria and Haris Seferovic respectively as Switzerland chase the game.
Portugal 4 Switzerland 1.